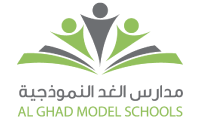 School Profile
Al-Ghad Schools was established in 1408 AH, and was characterized by its cadre of education, where it topped the leadership in the region.
Al-Ghad Model Schools started with a school for girls, followed in the second year by the boys' primary schools, which started with six classes. The three phases of girls were completed with the kindergarten and the preparatory stage in 1415-1416 AH.
Schools comprise the boys and girls sections and include the following levels of education:
Preliminary – Primary – Intermediate – Secondary.
Schools provide a distinctive high-quality educational service to our students to achieve the goals of parents and meet their aspirations in the upbringing of their sons and daughters, through the selection of distinctive cadres of teachers and teachers with high efficiency and continuous monitoring of their performance. The provision of educational facilities to assist in the quality of educational and pedagogical processes and excellence such as laboratories and language laboratories and computer laboratories and libraries.
Educational facilities
Schools include a range of laboratories and laboratories for scientific and applied materials in the academic stages of conducting scientific experiments for students, and to link between education and training in scientific evidence and laboratories equipped with the latest modern technologies to work all theories and scientific experiments and provide students with all the ways to conduct experiments.
>
Tomorrow's schools attach great importance to student counseling by contributing to overcoming the problems students face in their educational career by:
Provide advice and guidance on overcoming learning problems.
Psychological and moral guidance in the educational and environmental aspects of student ethics.
Building bridges of cooperation between home and school.
Guidance in choosing the educational future.
Creating the right school environment for students through communication and competition among them.